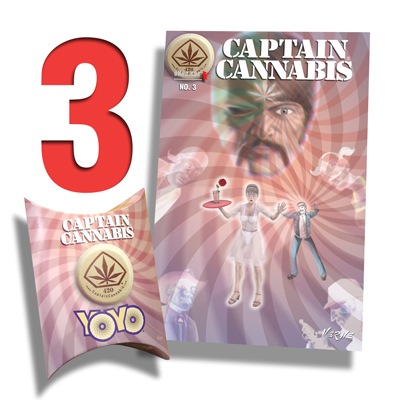 Welcome to the launch of Captain Cannabis No. 3 and companion 420 YOYO! Read all about it in the Captain Cannabis No. 3 YOYO Takes Off! press kit.

Check out the 420 YOYO in action!





As a special introductory offer you get 15% off bundles of selected product. All prices in Canadian dollars.

Packages ship from Canada. Rates are based on the most economical options offered by Canada Post. Selections include CDN for shipping to a Canadian address, US for United States and Intl is for all other destinations. No Track means there is no tracking while Track options provide a tracking number. Unfortunately not all destinations offer tracking.

If you want more than one bundle, be sure to ask about combined shipping rates and we'll do our best to keep your costs down.

As an alternative purchasing option the 420 YOYO is also available directly from Amazon now.

Paperback versions of Captain Cannabis No. 3 are listed further down the page.


---
---
---
---
---
---
---
---
---


Paperback editions of Captain Cannabis® No. 3 are available in the following international markets. Links open in a new window.


Global - Book Depository

Australia - AbeBooks

Australia - Booktopia

Australia - Fishpond

Brazil - Amazon

Canada - Amazon

Canada - Chapters Indigo

Denmark - Saxo

Finland - Adlibris

France - Amazon

Germany - Amazon

India - Amazon

Italy - Amazon

Mexico - Amazon

Netherlands - Amazon

New Zealand - Fishpond

Spain - Amazon

Sweden - Adlibris

United Kingdom - Amazon

United Kingdom - Blackwell's

Walmart




Quick links: