Captain Cannabis No. 3



Creator/artist Verne Andru proudly announces the third on his ongoing Captain Cannabis® series!

Press Release - 4/20/2021 - IT'S ALL FUN & GAMES WITH CAPTAIN CANNABIS NO. 3 press kit pdf download.

Fact Sheet - 4/20/2021 - CAPTAIN CANNABIS NO. 3 fact sheet pdf download.

As No. 3 nears release check out what goes into making a Captain Cannabis® comic book. I've been documenting as it's been evolving including the writing phase when I created this series of Goodreads blog posts titled "Creating a new comic book":


With writing in hand I then set out to create the artwork to go along with the words. I did a fair bit of design and alternate shots before settling on the final page layouts which I printed on white 11" x 17" paper in blue-line.




July 12, 2021 I finished inking the bluelines: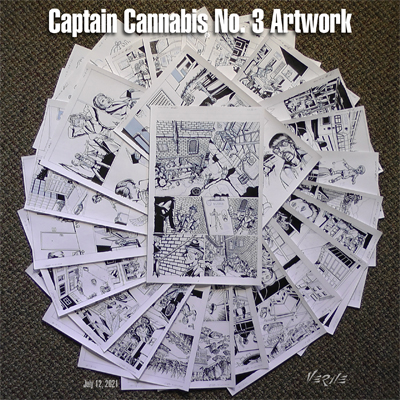 This makes up the final art pages for Captain Cannabis® No. 3! It's been slow and exacting work, but I truly enjoy the process and love when the images start taking a life of their own.

With artwork done and scannned it's prep and print so stay tuned for release announcements coming soon!

Product Details:

Author, Illustrator: Verne Andru
Book Type: Paperback
Publisher: oKee.ComX
Language: English

Paperback ISBN-13: 978-0-9738851-9-4
eBook ISBN-13: To be announced

Publication Date: To be announced
On Sale Date: To be announced

Book Type: B&W 6.625 x 10.25 in or 260 x 168 mm Perfect Bound





Quick links: